Welcome to The Bible in Three, a podcast where we discuss 3 Things About the Bible in about three minutes. Today we're explored Romans 8:38–39. This is my friend Becca's favorite verse and I think you'll love it, too!
ONE—The Background
Paul wrote his letter to the believers living in Rome. Since he hadn't met them before, he used his letter to not only introduce himself but basically present a master thesis on the gospel—and the theme is God's righteousness. I highly recommend reading the whole book but chapters 6,7, and 8 are amazing if you only have a few minutes.
TWO—The Breakdown
Paul's letter to the Romans can be divided up by answering 4 questions.
One, why do we need righteousness—we've sinned (Romans 3:23).
Two, who can accomplish that righteousness —well that's Jesus alone (Romans 5:6)
Three, how do we operate in that righteousness—we walk according to the spirit (Romans 8:1–4).
And four, how do we practice it in our own lives—that's by offering our lives to God to be continually transformed to look more like Him (Romans 12:1–2).
THREE—The Bite-sized Truth
We'll start with Romans 8:35 and end on 39.
35 Who shall separate us from the love of Christ? Shall trouble or hardship or persecution or famine or nakedness or danger or sword? 36 As it is written: "For your sake we face death all day long; we are considered as sheep to be slaughtered." 37 No, in all these things we are more than conquerors through him who loved us. 38 For I am convinced that neither death nor life, neither angels nor demons, neither the present nor the future, nor any powers, 39 neither height nor depth, nor anything else in all creation, will be able to separate us from the love of God that is in Christ Jesus our Lord.
What can separate us from the love of God? Absolutely nothing. Because what brings us to God in the first place is what Christ did for us. What we could not do for ourselves.
Practical Application: Friend, you may feel like you've made too many mistakes, or that the world is out to get you, or that God does not love you. But he does. Christ's death makes that abundantly clear and if you place your trust in him, that love can never be taken away. Be encouraged in whatever circumstances you find yourself today. You are loved by Jesus. No take backs.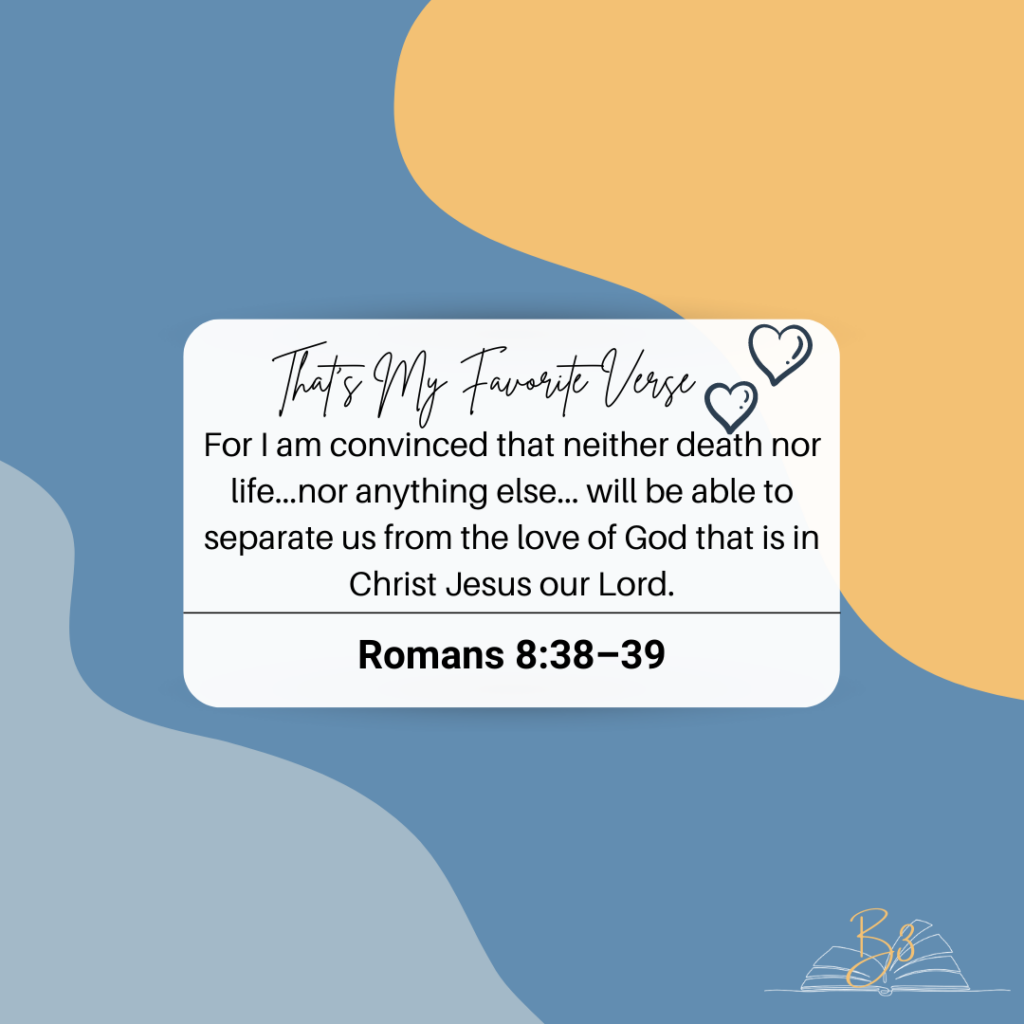 Here are some more resources to dig deeper.
Local Church— Being plugged into a church that prioritizes the reading and understanding of scripture is pretty important. For some that may be a pretty big ask due to previous hurt within this space. If that's you, take your time and pray for God to lead you to the right space. But know that being in community with other faithful and mature believers is what God intended for his people. I'll be praying with you for that community as well!
Traveling with the Father my friend Christine has a podcast with 3–5 minute devotionals that connects every day life to the truth of Scripture. You'll love her soothing voice and beautiful honesty.
Simply Practical Truths. My friend Heather offers this weekly email bible study. Consider it your weekly dose of simple truth drawn from one verse or small passage of scripture with sound contextual insight and practical application for your life right now.
Honestly Though Podcast My friend Rebecca Carrell along with co-hosts Liz Rodriguez and Nika Spalding wrestle with relevant issues in the world, the church, and the family and ask, "Where is God in this?"
YouVersion Bible App I love this resource because you can read the Bible in multiple versions as well as start reading plans that are as short as a few days or as long as an entire year.
Bible In Three I also have a few more resources for the entire family on my website!