Thank you so much for supporting the Bible in Three. Below you will find all you need to tell others about this Bite-Sized Bible Study Podcast.
Launch Team Specifics
We'll launch this labor of love on Friday April 28th. Here are some ways you can help me out. You can do one, a few, or all of them!
Listening and Giving a Review
If you haven't already listened, you can go to Spotify HERE or iTunes HERE to take a listen. You don't have to listen to them all but if you only have time to listen to one, listen to episode 2 or beyond. The first one gives an explanation for why I'm doing the Bible in Three but it doesn't give you a good idea of what Bible in Three actually sounds like. After you've listened, feel free to rate it and give a review. It doesn't have to be long. Here are some of the reviews that have already come in!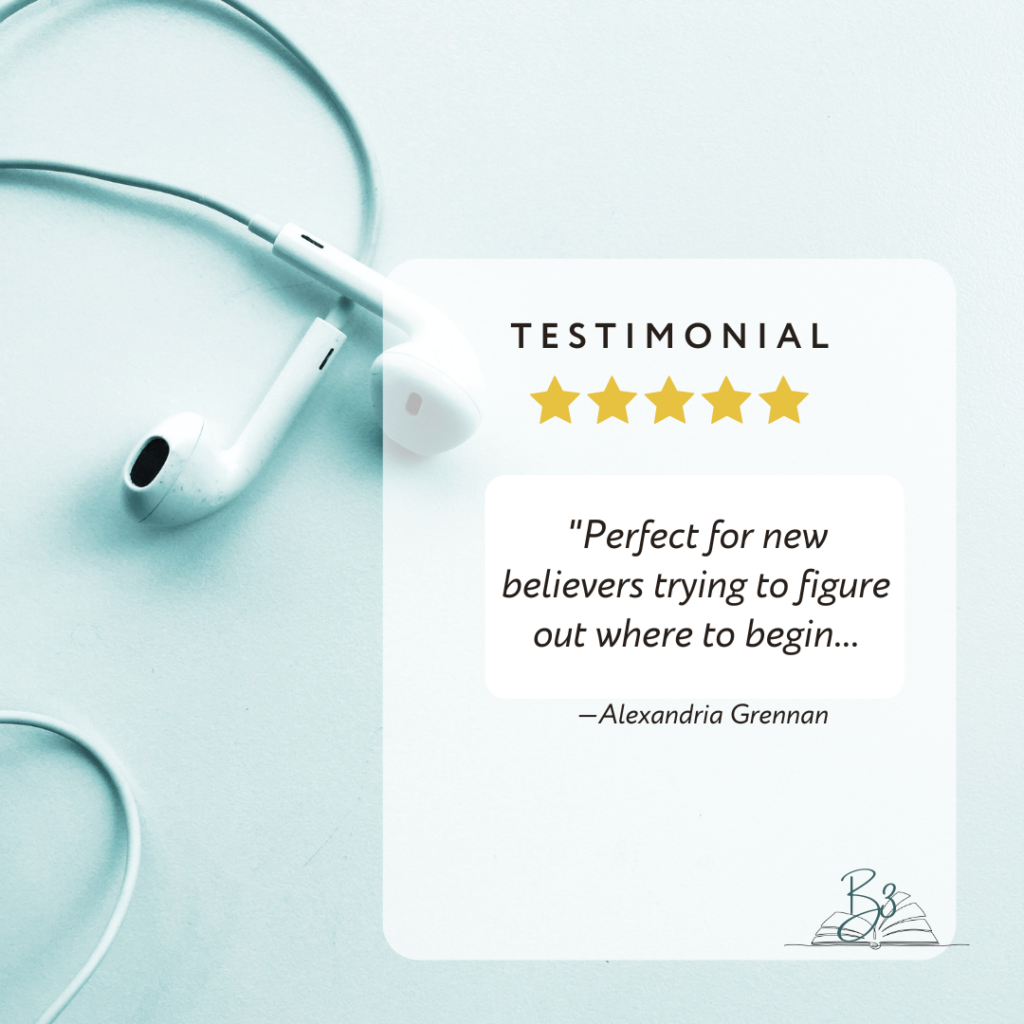 Launch Day Instructions
On the day we launch, you can help me in any of the following ways,
Share my posts. I'll be posting on my personal page, my facebook page, my instagram and my blog. You can simply share what I post and add an "I'm excited!" or you can say a little more.
Post a selfie of you listening or a screenshot of the episode playing and write a few words about how excited you are about the podcast.
Share an episode. You can go to Spotify or iTunes and share a specific episode you liked.
Be creative—if you're into Reels, or Tik Tok, or Stories or BeReal, blogging or any other kind of social platform, feel free to spread the word in that way as well.
Post the image below—be sure caption the image by sharing what it's about and why you're excited. You can use the samples below or write your own thoughts.
Sample 1: The Bible in Three is finally live! If you interested in learning more about the Bible but don't know where to start, you'll love this podcast. It's only three minutes and so easy to listen to! You can listen to it on Spotify or iTunes. Just search Bible in Three!
Sample 2: My friend Patty just launched a podcast about the Bible. It's only three minutes long but it's so good. You can listen to it on Spotify or iTunes. Just search Bible in Three!
Sample 3: The Bible in Three podcast is here! It's a great mini Bible study for busy folks like me. You can listen to it on Spotify or iTunes. Just search Bible in Three!
You can download the image using the button below or if you're on your phone, you should be able to press your thumb on the image and save to your camera roll.